---
---
---
---

Our HARRIS family can be reliably traced back at least as far as Sir Arthur HARRIS of Creeksea, England, born somewhere between 1530 and 1533, but we have it traced further back than that, though this is all second hand, as I have not done any of this research first hand myself. Most of my efforts have been spent looking into our HARRIS family more recently, say from the early 1700's forward to the present day. My cousin Vance HARRIS has done far more research into the earlier days of our HARRIS family and his findings can be viewed and read about here. He (along with cousins like Lanny CAUTHEN, Norma FORD and Robert HARRIS), have spent far more time than have I at researching the earlier days of our HARRIS family, and I defer to them for that information. As long as my children are young, I will not have the time and resources to do that research myself.
I have found, during the past six years or so, that this HARRIS family, of all my families, is about the best documented one I have. There is just a ton of information all over the internet regarding this family, as there are a good many descendants who have done and are doing research on the roots of this family. Needless to say, there are some differences of opinion on dates and such, and so for the time being I will defer to Vance's work earlier than 1700.
I currently have my HARRIS line back about 15 generations to a William HARRIS of England, born sometime in the mid 1400's and married to Anne JERNEGAN. William and Anne had a son named Arthur HARRIS, born between 1460 and 1476, who was married to Joanna PERCY. To Arthur and Joanna was born, among other children, William HARRIS about 1490, and this William was married to Joane COOKE. To William and Joane was born Arthur HARRIS between 1530 and 1533, who married Dorothy WALDEGRAVE. The next child in this HARRIS line was William HARRIS, born about 1556 and married to Alice SMYTH. To William and Alice was born John HARRIS about 1588, who was married to Dorothy Lymbrey CALCOTT and immigrated to the American Colonies (Virginia) in the early 1600's. To John and Dorothy was born Thomas HARRIS on June 10, 1616. Thomas was married to Alice WEST. Among their children was Thomas HARRIS, born about 1636 and married to Ann MARTIN or Ann TOMLIN.
This is the point in the family history where I become much more comfortable and sure of my line. To Thomas HARRIS was born Robert HARRIS in 1674. He married Anne FULGHAM and moved from Virginia to Warren County, North Carolina in the early 1700's. To Robert and Anne was born Charles HARRIS in about 1716. Charles married Rachel EGERTON. Of their many children, one was Wilmot Egerton HARRIS, born about November 13, 1769. He was married to Catey (or Caley, or Coley) MORRIS. To Wilmot and his wife was born Benjamin E. HARRIS in 1803 in Warren County, North Carolina. Benjamin married Susan PYRON and eventually settled in Pike County, Georgia. Benjamin and Susan were my GG Grandparents. Their son, William Taylor HARRIS, was my Great Grandfather, and his son, James Walter HARRIS, was my grandfather. He is pictured below.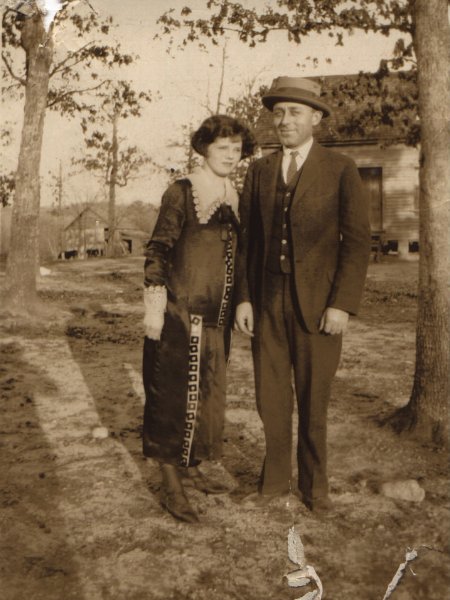 James Walter Harris and wife, Arvella Curry, in early 1925

Click Here to view my RootsWeb WorldConnect information.
Click Here for some HARRIS photos.
BACK TO COLEMAN FAMILY TREE PROJECT HOME



Click above to search the Georgia GenWeb Project!