Fields of Sovereign Grace

Are you tired of the cheap, brainless hype put forth by so many who are busy about entertaining people with a shallow, blasphemous and
heretical representation of Christianity? I sure am! Check out some of these articles, which share my goal of encouraging TRUE Christianity... one that focuses on the objective truth of Jesus Christ, and not primarily on warm, fuzzy feelings and emotions.
No more soul-destroying doctrine could well be devised than the doctrine that sinners can regenerate themselves, and repent and believe just when they please.. .As it is a truth both of Scripture and of experience that the unrenewed man can do nothing of himself to secure his salvation, it is essential that he should be brought to a practical conviction of that truth. When thus convinced, and not before, he seeks help from the only source whence it can be obtained. - Charles Hodge, Princeton Seminary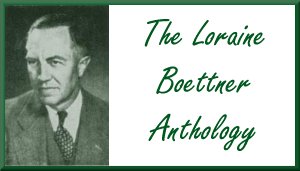 ©Daryl K. Coleman
E-mail: daryl@dkco.com
URL: http://www.dkco.com/
LAST MODIFIED: Octover 11, 2003