I am double-descended from this STARR family, whose earliest known member is Henry Starr (abt. 1752-1818). It is believed that Henry was born in and came from Maryland into Georgia after the birth of his first three children, Joshua, John and Silas. Henry (or possibly John Henry) Starr moved into Georgia in the mid-1780's, which is supported by his appearance in the 1785 tax list of Wilkes County. A very good source on Henry Starr is Linda Sparks Starr, who has for many years been doing research on this family. Her work on Henry Starr can be seen by clicking here. Henry's wife is thought to have been named Mary, and possibly Mary Steele. Records also indicate that Henry was later married to Mary Martin, and then to Polly Jenkins. Records also show that Henry Starr died in Morgan County, Georgia in 1818.
I descend, through Henry's son Benjamin (Franklin?) Starr, from two of Benjamin's children: Hilliard M. Starr and Martha Ann Starr (who married Lovic Pierce Ogletree). Hilliard's wife was Martha Ann Doss. Both of these couples are my GGG Grandparents. I have been in contact with quite a few researchers of the Starr family, many of whom also are interested in the Ogletree family, because of numerous connections between the two.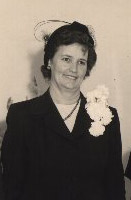 Rubye Starr Coleman, 1950
MORE ON THE HENRY STARR LINE, click here!
Also, to see more information and pictures of the Starr family descending from Benjamin Starr by his son John Henry Starr, click here, thanks to Linda Sparks Starr.
Click Here to view my RootsWeb WorldConnect information.
Click Here to see my own Starr family photos.


Click above to search the Georgia GenWeb Project!